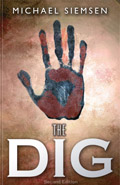 Matt turner's gift is also his curse...
The Matt Turner series follows the trials of a troubled psychometrist, a psychic with the ability to "read" an object's past. Since the age of nine, Matt has used this ability--both by choice and against his will--to unlock secrets that had otherwise been lost to history.
New York Times bestselling author, Charlaine Harris, author of the Sookie Stackhouse/True Blood series, said of The Dig: "I was compelled to finish this book, which argues for Michael Siemsen's storytelling ability."
Jason Weisberger of boingboing.com said: "The Dig was a page turner and I kept reading long past when I should have knocked off and gone to bed"
Mike Krahulik of penny-arcade.com called The Dig: "...a great read that reminded me a lot of Michael Crichton's better stuff."
Michael took a break from the Matt Turner series to pen A Warm Place to Call Home (a demon's story), and its prequel, The Many Lives of Samuel Beauchamp (a demon's story), as well as several smaller projects. Now, the highly-anticipated third book in the Matt Turner series is undergoing its initial editing rounds. A release date has yet to be announced.
FAQ:
Q: Where did the story for
The Dig
come from?
A: Well, let me tell you:
The Story Behind The Story
Q: Is there going to be a third book in the Matt Turner series?
A: Yes. The triumphant return of Matt Turner is nearing completion.
Q: Is there an audiobook version of the Matt Turner books available?
A: The audiorights for the entire Matt Turner series were acquired in 2013. The Dig audiobook is currently in production and is being narrated by one of the top voice actors in the industry. Release date not yet set, but it should be in the next couple months. The Opal will follow, and so on...
Q: I heard a rumor that there was going to be a Matt Turner/The Dig movie.
A: That's not a question.
Q: Is there going to be a Matt Turner/The Dig movie?
A: I hope so. After Avatar, it appears that CGI is ready to tackle The Dig. While words have been exchanged on this subject, no firm deals have yet been made, and no cameras have rolled, so don't hold your breath for now.
Q: Can I get signed copies of The Dig?
A: Yup:
CLICK ME
Q: Will there be more Matt Turner books after the next Matt Turner book?
A: I love your enthusiasm. We shall see...